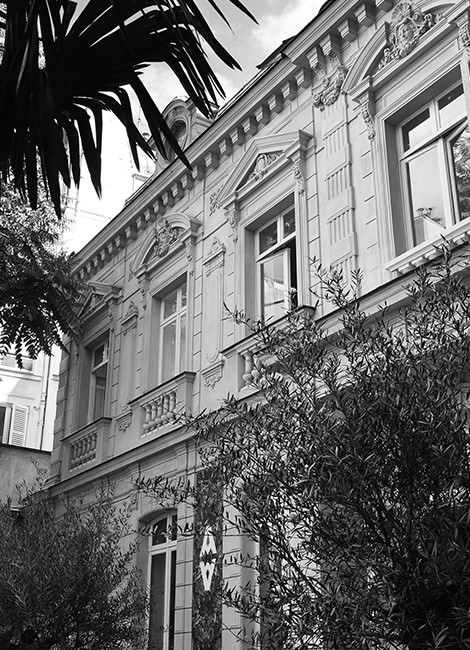 How a foundation year became an art school
The Atelier de Sèvres is a private establishment approved by the Paris Education Authority (Rectorat de Paris).
Since 1979, it has been preparing students for public and private art and animation schools in France and abroad.
The best foundation year to join art and animation selective schools
From Beaux-Arts and Gobelins to Central Saint Martins in London, Atelier de Sèvres achieves the highest rate of admissions to the most prestigious art and animation schools, thanks to the commitment and professionalism of its teaching staff.
Creation of a bachelor in animation
Since 2016, the Atelier de Sèvres has also offered a degree course in animation for which candidates much take a competitive entrance exam. This is a three-year study programme for students who wish to become writer-directors in the field of contemporary creation, mixing cinema, animation, writing, art and experimentation.
Students quickly distinguish themselves in French and international festival selections: Festival national du film d'animation, Festival du film court d'Angoulême, Festival FICAM de Meknès, Cape Town International Animation Festival, French Animation Film Festival in Singapore...
Opening of a bachelor in art
In 2020, Atelier de Sèvres finishes its evolution towards an art undergraduate school with the opening of a unique degree course in France: the bachelor of art & technology.
This 3-year course in English aims to train creators of digital works, able to express their abilities through various practices: interactive scenography, robotic/mechatronic devices, video mapping, virtual reality, video games, digital imagery, audiovisual creation.
Art and animation courses
Art foundation (1 year)
The Art foundation is a 1-year course enabling students to prepare successfully for the competitive entrance examinations of the most prestigious art schools in France and abroad: Beaux-Arts de Paris, Arts Déco, Camondo, IFM, Beaux-Arts of Nantes, HEAR, Villa Arson, UAL (London) and especially Central Saint Martins (UK), ECAL (Switzerland). The Foundation is available in English to prepare for international art schools' exams. Every year, 85% of our students join one of their schools of choice.
Animation foundation (1 year)
Thanks to a two branches programme: drawing and animation, the Animation foundation enables students to prepare successfully for the competitive entrance examinations of great animation schools: Gobelins, Rubika or EMCA. Every year, 90% of our students pass the exams for one of the animation schools of their choice.
Bachelor of art & technology (3-year undergraduate course in English)
Atelier de Sèvres offers a 3-year degree course taught in English: the bachelor of art & technology. This course questions the major changes and societal challenges brought about by digital technology.
Bachelor of animation (3-year undergraduate course)
Atelier de Sèvres offers a 3-year degree course, similar to the teaching given in great animation public schools. This course, available through a competitive selection, enables students to master all the 2-D and 3-D animation techniques, from pre-production to , to become writers/directors.
Values
Reveal
Studying at Atelier de Sèvres means giving free rein to one's imagination and creativity. Never limited, students are continually encouraged to create new, original and unique projects. Creativity has an inestimable value in art and animation schools. The Atelier de Sèvres enables its students to enrich this throughout their training.
Transmit
From directors to scenographers, gallerists, animators and more... Throughout the year, the Atelier de Sèvres receives professionals from the artistic world. These lectures provide students with a better understanding of the area in which they wish to work.
Prepare
Successfully passing the competitive entrance exams requires a tightly managed schedule. For optimal preparation before the exam, timetables and classes are scheduled according to these key dates.
Offer
The teachers like to remind students that the Atelier de Sèvres is like a second home. The technical workshops are at their disposal to enable them to study in the best conditions. Studios, a multimedia room and construction workshops are available for the exclusive use of the students and their projects.
Strengths
An ideal location
Nestled in the heart of Paris, between museums and art galleries, the Atelier de Sèvres allows students to enjoy Parisian life and nourish their creativity in one of the most dynamic cities in the world.
Exceptional facilities
The Atelier de Sèvres has significant technical and educational material. From the beginning of their studies, students are able to use these tools in equipped workshops dedicated to classes and creation. The usage of this material is unrestricted and included in the tuition fees.
Personalised support
In order to be fully prepared, Atelier de Sèvres students experience competitive exam conditions several times a year in front of a jury comprised of teachers who contribute to the development of the portfolio that students will present on the at the actual competitive exam.
A team of established artists
The 90 teachers and speakers on the Art and Animation Foundation courses and the Animation degree course are all graduates of the leading art schools and are active professionals.
A vast community of Alumni
Students at the Atelier de Sèvres benefit from its vast network of alumni. For over 40 years, in addition to its success rate, the school has built its reputation on the successes of its alumni. Most have joined the schools targeted by current students. Some have become recognised artists; others work in international agencies, teach art or have started their own businesses.
Rankings
L'Atelier de Sèvres has received recognition in the press in articles that highlight the quality and reputation of its courses :
Le Monde cites L'Atelier de Sèvres among "the most renowned" art foundation schools (28th November 2016).
Le Journal des arts cites L'Atelier de Sèvres as one of the main private foundation schools in France (21st November 2018)
L'Étudiant cites L'Atelier de Sèvres for its remarkable results at the competitive exam for ENSAD and among "the private establishments with a definite reputation" (28th February 2019)
Le Figaro Étudiant considers L'Atelier de Sèvres to be "one of the best schools to prepare for the competitive exams for ENSAD and Beaux-Arts de Paris" (8th October 2015).
Le Figaro Étudiant : "L'Atelier de Sèvres is one of the intensive foundation classes obtaining the best results for competitive exams" according to data provided by ENSAD (6th May 2016).
L'ONISEP : L'Atelier de Sèvres is "among the most popular intensive foundation classes" (15th December 2017).
Maze : "This school is (…) the biggest and most successful of the private schools. Many students at prestigious schools (Beaux-Arts de Paris, Arts Décos…) have come from here." (April 2016).
Equipment
In addition to classes taught by professionals and the teaching methods put into practice, L'Atelier de Sèvres gives its students access to the best and most essential technical and teaching equipment for a foundation school, which is entirely covered by the school fees: photography, sound, video, engraving, printing, ceramic, construction and computer graphics studios and workshops, as well as the latest printers, printing production material, cameras and digital cameras and line-test rooms, rostrum cameras, stop motion sets, classrooms and animation light boxes, etc.