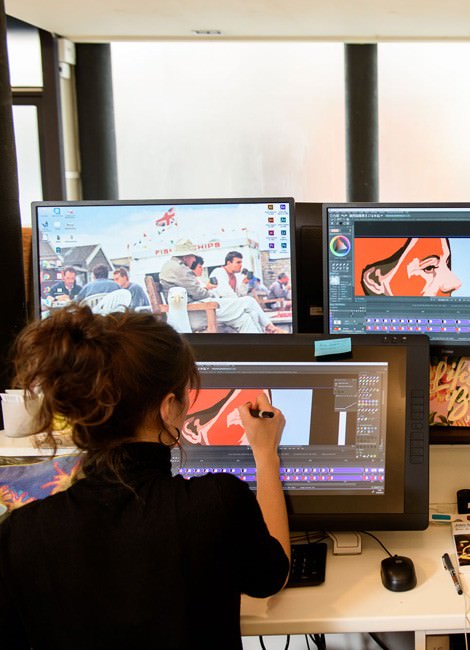 PASSING THE COMPETITIVE EXAMS FOR ANIMATION SCHOOLS
This foundation year enables students to develop their creativity and visual acuity, enrich and sharpen their technical skills and further their general and artistic knowledge.
TEACHING
The programme is entirely focused on preparing students for the competitive entrance exams. It is centred around two branches:
1. The drawing branch provides students with a solid and methodical foundation and is accompanied by intensive practice throughout the year.
2. The animation branch is composed of 2-D animation and stop motion, storyboard, character design, illustration, history of art, cinema and animation, narration and computer graphic design.
These lessons are completed by visits from professionals throughout the year in the form of workshops and conferences in which everyone will have the opportunity to exchange, create and also think about their professional integration in more detail.
Intensive Preparation for the Competitive Exams
Teaching intensifies from January onwards: in addition to following classes, workshops and viva exams, there are also mock competitive exams, writing workshops (help with writing statements of intent and personal statements), lectures and workshops.
Atelier de Sèvres prepares students for the best animation schools: Gobelins, Rubika, EMCA (Angoulême), Georges Méliès, etc.
INTERMEDIA ANIMATION FOUNDATION
The Intermedia Animation Foundation course is aimed at mature students who have a greater artistic experience, whether from a technical, creative or personal point of view.
The teaching of the Intermédia Animation Foundation alternates between compulsory classes and technical workshops, centred around the complementary pillars of creativity, drawing and knowledge.
Throughout the course, Intermédia foundation students benefit from personalised, individual support. In contrast to the Animation Foundation students, students on this course are more autonomous, develop personal projects, and the workshops and creative labs are at their disposal.
Like the Animation Foundation courses, the aim is to pass the competitive exams of the higher education schools.
To join the Intermédia course, candidates must inform the Admissions Officer on the day of their interview. A decision is then taken during this discussion.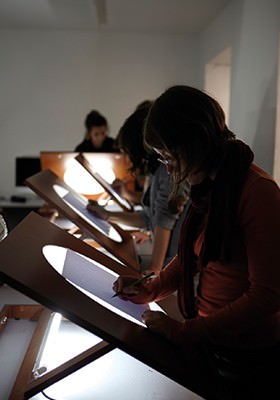 Discover the projects students have presented at
the competitive exams for art and animation schools
PORTFOLIOS
Discover the projects students have presented at
the competitive exams for art and animation schools
WORKSHOPS
Atelier de Sèvres, it is 2 500m² of spaces dedicated to creation. In a working but warm atmosphere, students shape their projects. These atypical spaces offer an ideal setting for students to push their creativity. The Atelier de Sèvres, provides students with dedicated computers and tablets but also creative workshops in which they create and imagine their projects.