Foundation year
Join the school of your choice
By choosing the Animation Foundation Course at Atelier de Sèvres, you'll benefit from a complete teaching and training programme with a view to entering the school of your choice: individualised support, through a common core curriculum, animation workshops and masterclasses; innovative teaching methods adapted to each individual's personality. Admission takes place independently of Parcoursup.
The Animation foundation year is a real keystone in the career path of students who wish to work in the sector. This enriching year of training not only enables them to consolidate and master the fundamentals of drawing as part of the core syllabus, but also to develop and practise the techniques linked to the professions of animated film through the classes and workshops offered throughout the year.
Continuing your studies at Atelier de Sèvres
Animation Foundation students have the possibility to join the animation bachelor's degree course at Atelier de Sèvres. Two programmes are available to them: the bachelor's degree in animated film design, accessible by entrance examination, and the bachelor's degree in 2-D/3-D animation, accessible by application and interview. They can then continue with a master's degree in animated filmmaking for a comprehensive course from which they will graduate as high-level professionals.
Training
In order to train students and enable them to present an exemplary portfolio at the competitive entrance exams of specialist higher education institutions, the teaching on the Animation foundation course is divided into three branches:
a core curriculum of academic and applied courses in animated film,
workshops
and experimental workshops in animation techniques.
As part of the core curriculum, students acquire the basics and fundamentals and then develop these in greater depth with classes that are entirely focused on drawing—perspective and life drawing—and classes that are specific to animation, such as storyboarding, character design, an introduction to 2D, illustration, history of art/animated film and computer graphics applied to filmmaking.
The year's syllabus also comprises:
Workshops of 32 hours each, with the possibility of making films in stop motion, painted or sand animation, 2D animation
and workshops of 24 hours each, in layout/scenery, writing and anatomy.
Students will gradually become familiar with this ambitious and innovative programme which will enable them to stand out at the entrance examinations.
Students are encouraged to work and reflect upon their projects outside of standard class hours. To enable them to progress in optimum conditions, the workshops are at their disposal.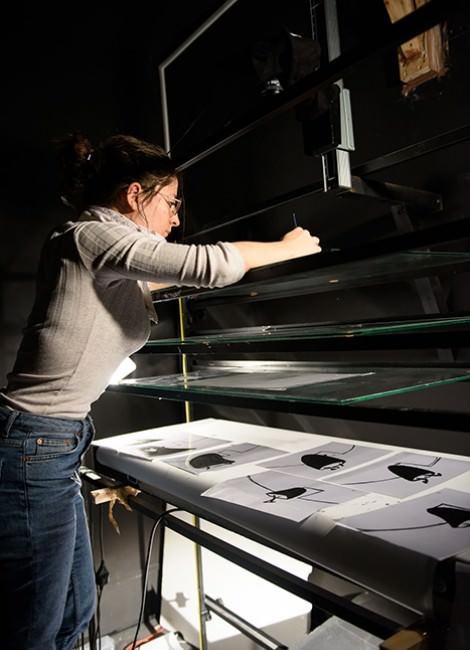 Successfully passing the entrance exams
Comprehensive training for the entrance exams
The year is punctuated by mock exams and interviews. With the help of the teaching team, students will build the artistic portfolio that they will submit to higher education institutions At the same time, students also prepare for the entrance interviews. This exchange with the examining board is just as important as the portfolio and must be enthusiastic, clear and assertive. This is why the Atelier de Sèvres teaching team is particularly committed to preparing its students for this stage.
At Atelier de Sèvres, the teaching team is on hand not only to support the students but also to enable them to develop their artistic personality. And it is this very personality that will enable them to demonstrate their particular know-how for specific projects.
In 2020, Atelier de Sèvres Animation Foundation Year students excelled in the entrance exams for the most prestigious animation schools:
90% of students on the Animation Foundation course passed at least one entrance exam to the school of their choice
14 students were accepted at Gobelins, 14 students at EMCA, 19 at the Ecole des Nouvelles Images and 21 at Rubika Valenciennes
Admission outside Parcoursup
Application to the Animation Foundation course does not take place via the Parcoursup procedure – simply apply for an interview on the website!
Networks
A network of professionals
Throughout the year, students meet professionals—as teachers but also during seminars—with whom they have the opportunity to exchange ideas and create, and also consider a more precise career path.
A network of schools
Thanks to the Graduate School Forum, organised every year in November/December, students can attend a presentation of the course programmes, see the end-of-study films, and be informed of the dates and procedures for applying to animation graduate schools and the specificities of each one (2D, 3D, writing, technical, VFX, etc.).
In the presence of Atelier de Sèvres alumni who have entered these schools, and of course leaders, they will be able to refine their choices and plan their entrance exam schedule. The materials for this school-by-school forum are available to students.
Organisation
First week of the school year: Drawing and animation test to guide students in their first workshop.
From September to December
Acquiring fundamental drawing (observation and imagination) and animation skills.
Cross-disciplinary classes in artistic and animation culture.
Portfolio creation.
Animation school forum
END-OF-SEMESTER ORAL EXAM
From January to the end of February
Classes, studio sessions and animation workshops continue.
A two-week Artbook and animation project is launched for all classes on a shared theme.
Development of the project and Artbook in all classes.
Every week: training for class tests.
Storyboards, model sheets, placement of characters in space, staging.
In parallel, throughout the semester: guidance with your portfolio.
MOCK ORAL EXAMS: portfolio
For students wishing to join the graduate programme at Atelier de Sèvres, support is personalised according to the requirements for the 2-D/3-D Animation and the Animation Design bachelor's degrees in the second term, with the possibility of joining the first or second year depending on the student's level.
From April to May
IMPORTANT - the calendar is adapted according to exam dates in France and abroad.
Students finalise their portfolios and projects in all classes.
Training for oral exams in addition to compulsory classes.
Individual meetings on artistic culture with the art history/animated film teachers
MOCK ORAL EXAMS
Admissions procedures
A three-step registration process outside of Parcoursup
From October onwards, candidates can apply for registration at Atelier de Sèvres. To do so, all you need to do is book an appointment via the website or by telephone. Registration remains open until all places are filled.
Candidates are selected by means of an individual interview during which their portfolio of personal work is examined. This course is aimed at students who are inquisitive and enthusiastic about artistic practices and who have general knowledge in the field, as well as an open mind and creativity.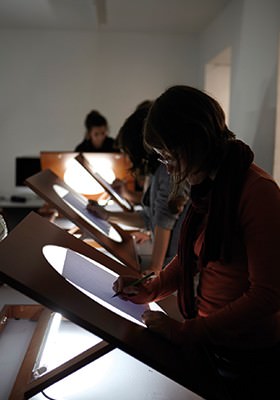 Discover the projects students have presented at
the competitive exams for art and animation schools
PORTFOLIOS
Discover the projects students have presented at
the competitive exams for art and animation schools
WORKSHOPS
In addition to the classes taught by professionals and the teaching methods implemented, Atelier de Sèvres provides its students with some of the best and most extensive technical and teaching equipment, which is fully included in the tuition fees: studios and workshop for sound, video and computer graphics, digital tablets, line tests and cameras (on-camera techniques), as well as the computer equipment and software necessary for their training.