24 July 2019
Alumnus Pénélope Bagieu receives the Eisner Award for comic books
For her book Brazen: Rebel Ladies Who Rocked the World, Penelope Bagieu received the Eisner Award for comic books.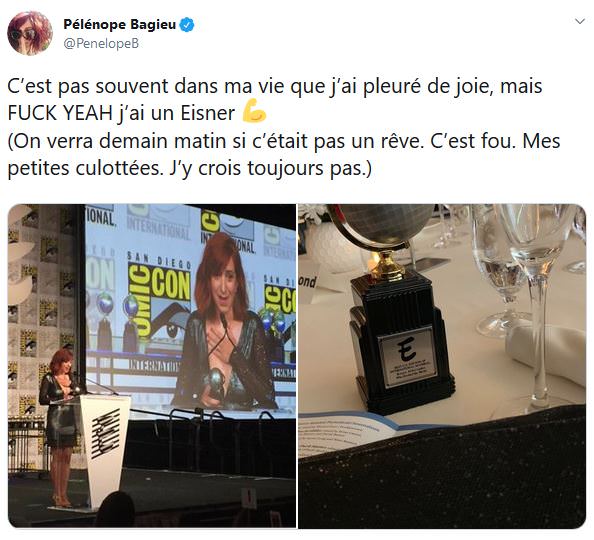 Brazen: Rebel Ladies Who Rocked the World wins award at Comic-Con
Nominated in the "Best US Edition" category for her feminist and offbeat book, Brazen: Rebel Ladies Who Rocked the World, Pénélope Bagieu received the prestigious Eisner comic book award at the Comic-Con Festival in San Diego on Friday, 19th July.
From Josephine Baker to Annette Kellerman, Mae Jemison and Nellie Bly, Penelope Bagieu pays tribute to 30 outstanding women over two volumes, by drawing their portraits. Whether journalist, transgender, empress, or athlete, these extraordinary stories are portrayed in two books sold around the world.
"Penelope Bagieu's clean lines leave plenty of space for her fascinating remarks. In a few extremely dynamic pages in which humour and documented narrative intertwine, she knows how to extract the quintessence of the exceptional existence of these fifteen strong-willed women," says Le Figaro about the work of the former Atelier de Sèvres student.
A bestseller, with more than 350,000 copies sold, translated into 17 languages and soon to be adapted to TV.
The Eisner Awards
The Eisner Awards, the comic industry's most important awards, are presented annually at Comic-Con, the world's largest festival celebrating pop culture.
Pénélope Bagieu
ENSAD graduate Pénélope Bagieu studied at Atelier de Sèvres. The designer became known through her blog "Ma vie est tout à fait fascinante" ("My life is quite fascinating"), launched in 2007. In September 2008, the illustrator published Joséphine. In 2013, the story was adapted into a film starring French actress Marilou Berry.
In February 2013, Pénélope Bagieu was awarded Chevalier des Arts et des Lettres on the occasion of the 40th Angoulême International Comics Festival.